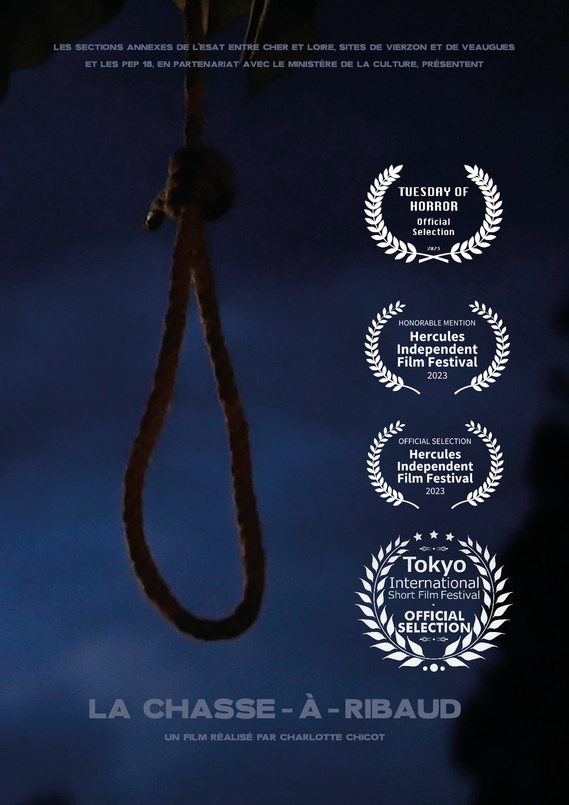 Neuf personnes répondent à une offre d'emploi dans le journal. À Veaugues, un nouvel établissement spécialisé ouvre ses portes et recherche des travailleurs pour y faire le ménage, la blanchisserie ou encore afin de s'occuper des espaces verts. Mais après leur arrivée, d'étranges phénomènes se mettent à arriver. Ils sont venus pour y travailler, ils vont y rester…

Ce film a été réalisé avec les usagers de la section annexe de l'ESAT de Vierzon et de Veaugues dans le cadre du projet de la Région Centre "Été culturel". Ensemble, nous avons écrit le scénario, réalisé et tourné le film en 3 semaines.
L'histoire est inspirée par l'histoire de la ville et de ses environs ainsi que du folklore local encore bien ancré dans le quotidien des habitants de Sancerre. Les usagers de la section annexe ont été accompagnés lors de l'utilisation de la caméra, de la prise de son et ont donné leur avis tout au long du montage du court-métrage.
-----
Nine people reply to a job offer in the journal. In Veaugues, a new specialized institution is opening its doors and is looking for employees to clean, do laundry or maintain green areas. But after their arrival, strange phenomena appear. They came to work, they will remain there...
This film was made with persons with disabilities from the annex section of the ESAT of Vierzon and Veaugues as part of the project of the Région Centre "Été culturel (cultural summer)". Together we wrote the script, made and shot the movie within three weeks.
The history is inspired by the history of the city and its surroundings as well as the local folklore still well anchored in the daily life of the inhabitants of Sancerre. The participants were accompanied while using the camera, the audio recording and voiced their opinion throughout the editing of the short film.
Prix
Hercules Independent Film Festival (Spain) : Mention honorable 'Best Editing' 2023
Sélections
Tokyo International Short Film Festival (Japan) : Film sélectionné en compétition, 2023
Hercules Independent Film Festival (Spain) : film sélectionné en compétition pour le 'Best Horror', 'Best First Time Director (short)', 'Best Editing' 2023
Tuesday of horror (Germany) : film sélectionné en compétition pour le 'Horror Short' 2023
Projections
14 octobre : Veaugues
26 octobre : Muséum d'histoire naturelle, Bourges
13 mars : Maison de la culture de Bourges (2 séances)
13 avril : Menetou Ratel